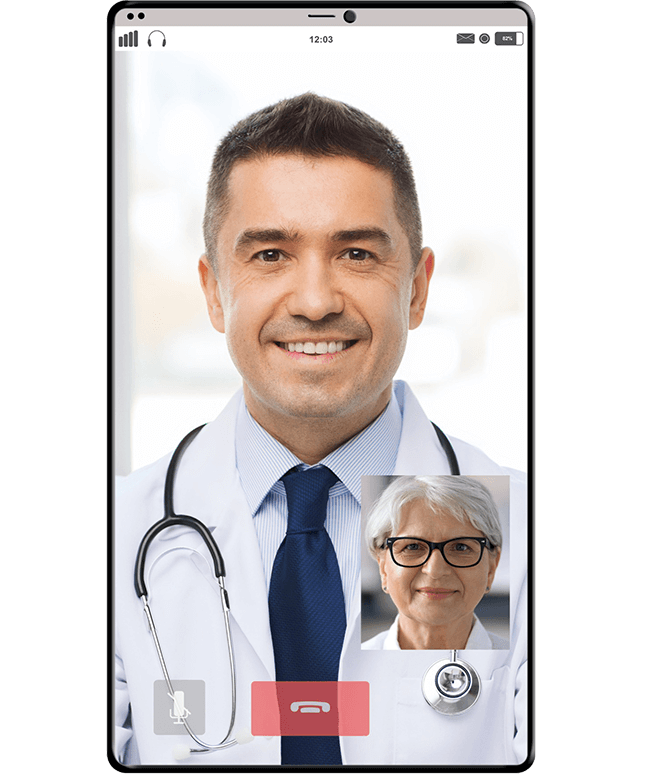 24/7/365 Access to Care - Talk to a Doctor within 2 hours...
Now You Can Provide Unlimited Telemedicine Visits for Your Employees and their Families Starting at Only $49.00 Monthly.
Online Doctor Visits 24 x 7 x 365. Includes coverage for your employee and up to 7 of their dependents. Unlimited Virtual Urgent Care. Access to Virtual Primary Care, Virtual Dermatology, Virtual Behavioral Health. Discount Vision, Dental, Chiropratic, Imaging and Laboratory Services.
Provide on-demand care for your employee and up to 7 of thier family members when they need it. Access to licensed, and board-certified physicians 24 / 7 / 365. With the rise in healthcare costs, more employers are turning to telehealth to reduce costs, and help offset out-of-pocket expenses for their employees. Eliminating unnecessary doctor, urgent and ER visits can reduce healthcare spending significantly. A typical doctors appointment can take half of the work day. OurDoctor gives your employees easy access to a physician wherever they are located.
Just click the start free trial button below and fill out the form. One of our business developers we sign you up with a free account to try the telemedicine services for yourself and see if its righ for your employees.
Get Free Trial Now!
What Telemedicine Services Does OurDoctor Provide
Talk to a doctor over the phone for Primary care, Behavioral care, Dermatology, and Urgent care treatments. If your condition requires a prescription, a script for the prescribed medication is sent to the pharmacy of your choice. The OurDoctor plan also provides discount health services, including Vision, Dental, Chiropractic, Lab work, Pet Consultations and more.
Urgent Care Treatments:
 Allergies
 Asthma
 Bronchitis
 Cold & Flu
 Constipation
 Diarrhea
 Fever
 Headache
 Heartburn
 Hemorrhoids
 Infections
 Joint Aches & Pains
 Pediatric Ailments
 Nausea
 Pink Eye
 Rashes
 Shingles
 Sinus conditions
 Skin Inflammations
 Small Wound
 Sore Throat
 Sports Injuries
 UTI
Behavioral Care Treatments:
 Addictions
 Depression
 Anxiety
 Stress Management
 Relationships
 Parenting
 Legal Matters
 Weight Management
 Fitness and Exercise
Primary Care Visits:
  No consultation fees
  Caregiver support: Include family or specialists into scheduled video appointments
  Build a relationship with a provider of your choice who takes the time to get to know you
  Schedule routine checkups, order labs, refill medications and monitor key vitals virtually
  24 / 7 / 365 Direct access to a collaborative care team for unlimited ongoing health care needs
  By uncovering unknown conditions, millions can be saved for a self-funded plan
  Integration of all services for continuity of care
  Immediate savings with redirection of healthcare and long-term savings from continued care
  24/ 7 / 365 Collabarative care team to support treatment adherence and medication management
Virtual Dermatology Visits:
Our board-certified Dermatologist can treat and diagnose hundreds of common skin, nail, and hair conditions, as well as help manage chronic skin conditions. Receive a treatment plan and prescription, if needed within 72 hours after interview intake.
  Log into your member portal to schedule a consultation with Dermatologist. 24 / 7 / 365
  Upload (3) Images and describe the condition.
  Dermatologist will review the consultation details, health records, and the attached images within 72 hours and provide a treatment plan
  Prescription will be sent electronically to your local pharmacy when necessary**
How the OurDoctor Telemedicine Service Works
What's excellent about the OurDoctor service is that we offer a low-cost monthly subscription, and there is No Long-Term commitment, so that you may cancel at any time.
You can speak to a doctor within minutes and have your prescription sent to the pharmacy of your choice by mail order or local pickup. OurDoctor is anytime, anywhere in the USA 24 / 7 / 365 and operates nationwide.
Our service will cover your employee and up to 7 Dependents on one plan, for one low monthly price, and no long waiting rooms exist at your ER or Urgent care center. We have streamlined this process, making setup easy for all businesses and single-family households.
---